Earth Homes
Earth homes is a name given for underground homes, earth berm homes, earth-sheltered homes and several other types that defy description. Basically, earth homes are any kind of house construction that uses Mother Earth to in some way prop up, insulate or form a wall of the structure.
| | |
| --- | --- |
| Earth Homes | Some people even use the term earth homes to describe properties that use the natural resources to supply energy and food for the family living there. |
For instance, an organic farm that not only sells its produce but uses its crops to feed that family might be considered an earth home.
Grid-Free ...
But, for this kind of set up to really be considered one of the earth homes it needs to be off-grid as well. This means the use of solar, wind, geothermal or microhydro power will be needed to supply electricity for the home.
Biofuels from crops or methane or hydrogen from animal waste can also be used for earth homes to generate power. Now, let's get back to the other kinds of earth homes described earlier.
Backwards, March ...
Underground homes definitely fit the category of earth homes since they are totally underneath the earth including the roof. These types of earth homes are mainly made of cinder blocks along with an advanced ventilation system the circulates air and dehumidifies it as well.
Whether underground, earth sheltered, bermed or rammed, sealing the dirt from the structure of earth homes is essential to prevent bug infestation. Earth sheltered, bermed or rammed homes typically are covered by dirt on two or three sides and perhaps the roof.
The most typical setup for these earth homes is that they have three sides covered with dirt plus the roof and one side, preferably facing south will look like a typical home front. Skylights can be put in to allow more natural sunlight into the home if desired or these skylights can be covered at will to keep the blazing sun out.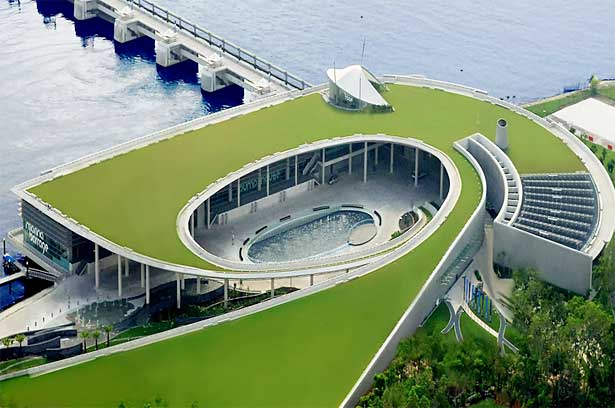 Super Modern Earth Home
The advantage of all earth homes that are partially or totally underground is that they protect homeowners from the elements such as wind, tornadoes, flooding (if constructed well and in a preferred location), and even earthquakes because of the solid, yet flexible construction.
The heating and cooling bills of earth homes are also much cheaper (as much as 80-percent cheaper) than traditional houses. Add to this solar panels, wind turbines, geothermal or microhydro power and homeowners can sell their extra electricity back to the grid and actually profit from their earth homes.
I Spy ...
Another advantage of earth homes is security. If someone where to break in to the house, they would have limited entry and exit points. If cameras are installed they don't have to be placed all around the property but usually in one or two locations.
So, the question is not if one should buy one of the available earth homes in their area but when. So, what are you waiting for, why not build or buy your own earth home today?