Earth Sheltered Homes
Earth sheltered homes are a bit different that earth berm homes or underground homes. Earth sheltered homes typically imply that a house is built into a mountainside or hillside, whereas on earth bermed homes the soil is pushed against one or more sides of the house. Underground homes as the name implies are constructed and contained underground.
| | |
| --- | --- |
| Earth Sheltered Cave Home | The location for earth sheltered homes is paramount. Usually the owner needs to pick a piece of property on a mountainside or hillside where the earth sheltered home that is exposed will face south. This helps earth sheltered homes to gain sunlight all day for warmth and to provide light inside the home. |
Depending upon the mountainside or hillside that is chosen, skylights can sometimes also be implemented on the north side of earth sheltered homes to provide sunlight in the darker regions of the house.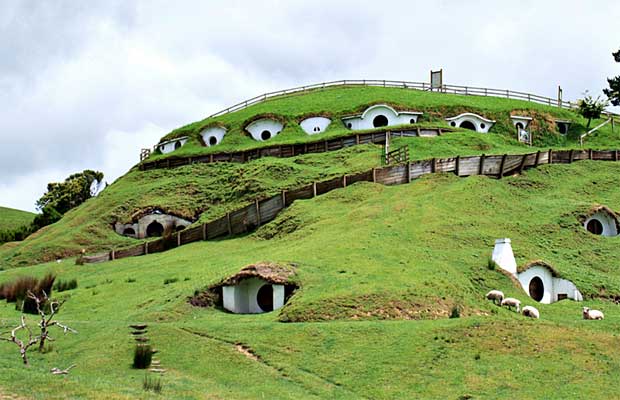 Earth Sheltered Village
Look South ...
The design of earth sheltered homes is paramount to its functionality. The soil that covers the home will both protect and insulate it. If the uncovered side of the home faces south, then bedrooms and common areas that need light can be constructed facing south taking advantage of the sunlight.
The elevational design of earth sheltered homes let homeowners decide how far into the mountain or hill they want their home to go. Some homeowners choose partial seclusion into the mountain or hill while other prefer total seclusion of three sides.
In addition, some homeowners choose to combine earth-sheltered and earth berm homes into a mountainside or hillside and in effect making it an underground home.
| | |
| --- | --- |
| This can be accomplished by building three sides of the house into a hill and then berming the south facing side if desired. | |
Window and door opening can be left open without being blocked by soil for sunlight and ventilation purposes. The construction of earth sheltered homes can be more expensive than earth berm homes depending upon the time, crew and equipment needed to clear a space in the hillside or mountainside.
For those who like living off the grid, solar, wind and geothermal can be used for a green lifestyle. In addition, propane can also be used.
Earth sheltered homes provide the same advantages as earth berm or underground homes. Namely this includes lower heating and cooling bills, better home construction and structural integrity, safety from the elements such as high winds, tornadoes, floods and earthquakes and security from strangers or criminals.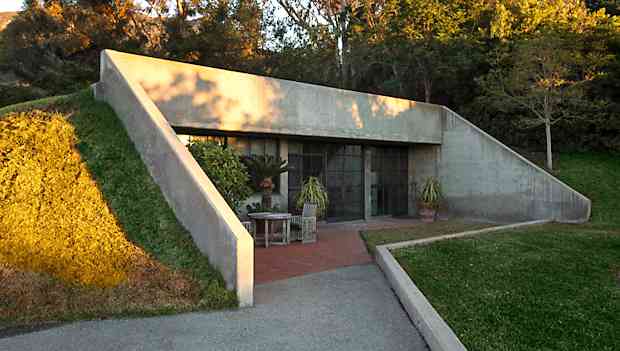 Comedian and Actor Steve Martin's Earth Berm Home in Montecito, CA
Don't Wait ...
So, what are you waiting for, why not buy or build your own earth sheltered home today as the best time to start is now.