Cave Homes
It's so easy even a caveman can do it - owning one or more cave homes that is. The evidence of man living in subterranean caves dates back to the Paleolithic Age. The essence of this age was that man lived in small groups and mostly took refuge in caves at night.
| | |
| --- | --- |
| It is from here the concept of cave homes came into existence (and ironically enough it is still with us today). But, whatever little we know about primitive cave dwelling is from what scientists have found after excavating those caves. | Cave Home in Missouri |
In modern times, the concept of cave homes has transformed into a plush, sophisticated and comfortable houses. Such cave homes can be seen in Spain, USA, Australia, Morocco and in other Mediterranean countries. All these subterranean houses provide all the modern conveniences, good ventilation and spectacular views.
The primary structures of these cave homes are all natural materials and they are very effective in maintaining a constant temperature. Caves vary in size like from a simple three room cave to a big cave comprising a dozen rooms which is likely to accommodate three generations of a family.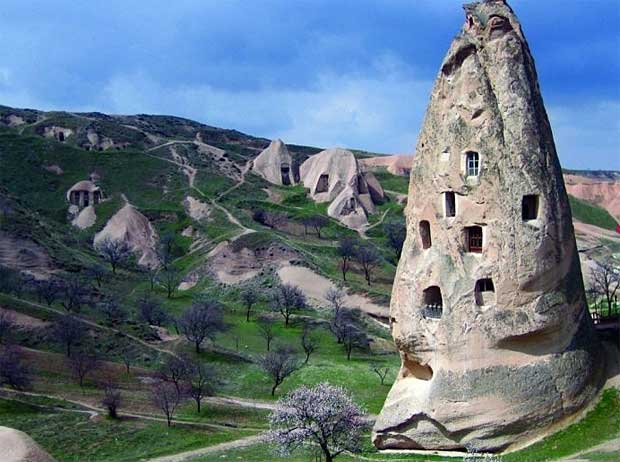 Cave Houses
What, Have You Been Living in a Cave All Your Life ...
Cave living is very different from living in a conventional house. Walls in cave homes are thick and the rooms are large in size with very high ceilings and a number of doorways leading to other rooms. The doors and windows are always in the front side of the house.
Among the famous cave homes, the Curtis Sleeper Caveland in Missouri (pictured at top of page) has come into the forefront because of the recent media exposure. Caveland is spread across 17,000 square feet and is spacious, beautiful.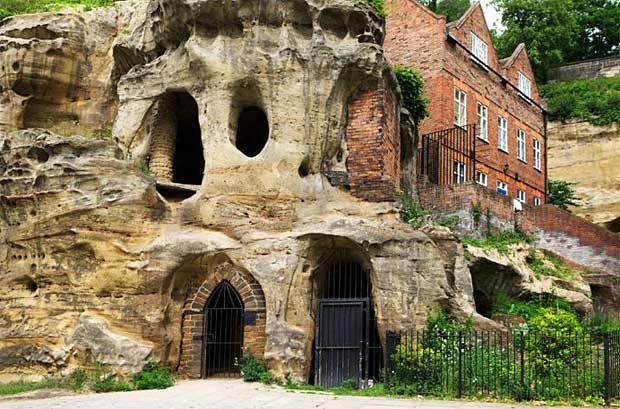 Cave Dwelling
Sleeper Cell ...
It belongs to William Curtis Sleeper, his wife and their three kids. According to Sleeper, their house is eco friendly as no artificial heating or cooling is required because of the natural insulation of the cave walls. The house is lighted with fluorescent bulbs and the flooring is done with re-cycled wood of an oak tree which makes it really attractive.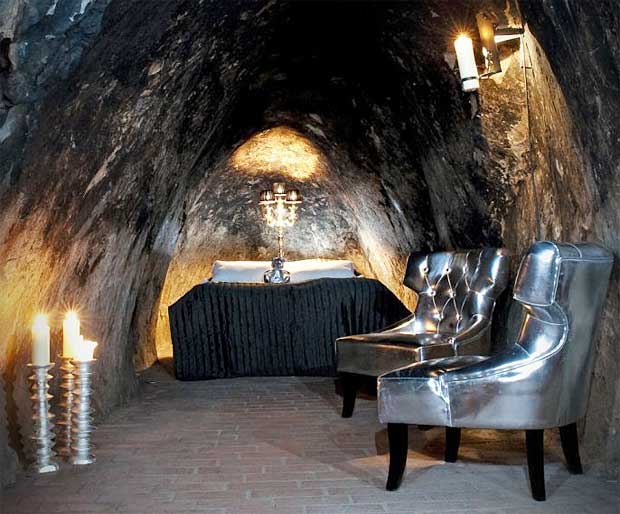 Cave Bedroom
There are large windows in the rooms which maximize natural light. The front of the cave provides a natural opening to the house. At the back there is a laundry, a storage room and a spare bath room. But Sleeper is facing a crisis where he is compelled to give up his distinctive house. So in order to rescue his residence he has been talking to some investors to finance him in order to stay put in his place.
| | |
| --- | --- |
| | The other notable cave homes can be found in Coober Pedy, in South Australia. More than half of the population in this area lives in subterranean cave homes. |
Mine Your Business!
These cave homes have evolved from the existing mines and the advantage of building such homes is that it is relatively cheaper. Thus we can see it is not only Batman who can have his 'Bat Cave' beneath his Wayne Manor, but a cave home is a reality which is not only cost effective and energy efficient but versatile also.