Earth Berm Homes
Earth berm homes (or earth rammed homes as some call it) are houses that are at least partially sheltered by dirt. While earth sheltered homes are typically built into a hillside and underground homes are totally beneath the soil, earth berm homes are typically built above ground and then the soil is pushed onto one or more sides.
| | |
| --- | --- |
| The earth bermed homes offers perhaps the cheaper construction among this style and earth sheltered and underground homes. | Earth Berm Home |
This is because digging out a hillside or digging underground and fitting a home within these specs takes more planning and labor than simply pushing a pile of dirt around one or more sides of the home.
The advantage of earth berm homes are similar to other kinds of home that use the soil to their advantage. Cutting cooling and heating bills is at the top of the list. Many homeowners can cut these bills by 80-percent or more.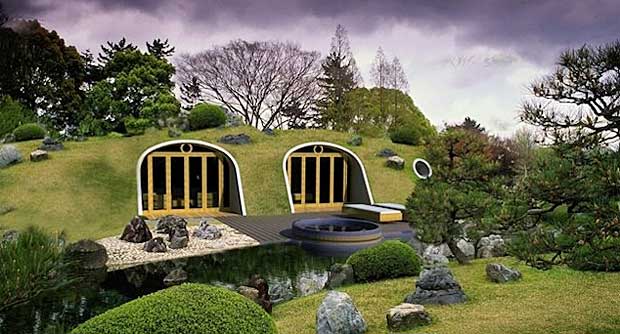 Earth Berm Design
Get Go ...
Then add a few solar panels or wind turbines to the property and the earth berm homes can actually sell electricity back to the grid and be profit generators. With earth bermed homes it is generally easier to design and set up the heating and cooling system from the get go before pushing the soil against the home.
Design is also an advantage since the owners who are building earth berm homes can decide whether one, two or three sides will be covered with earth. They can also decide whether the roof will be covered. They can also decide whether an entire side of the home or just part of each side will be covered. These choices are attractive to many who either buy or build their own earth berm homes.
An added feature of earth berm homes like the others already described is security. If a home is bermed on three sides this leaves only one access points for criminals to enter the home. Security cameras need to also be limited to this one side cutting down on the cost of systems needed.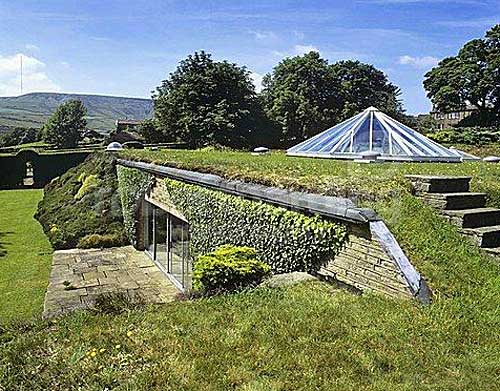 Modern Earth Berm Home with Skylight
Storms such as high winds, tornadoes, floods and earthquake damage is limited if the earth berm homes are constructed correctly and in optimal locations. Typically earth berm homes face south in order to take advantage of the sun all day.
Some earth berm homes will also have skylights on the north side to let more light in, but this is optional. With penetrational design, soil will be pushed up along all sides of the house including roof, except where windows and doors exist.
This allows for optimal insulation plus ventilation cross flow and natural light to enter the home. The construction of earth berm homes may be either more, less or the same as traditional homes. Mainly built of concrete and cinderblocks the earth berm home can be more expensive due to sturdier construction.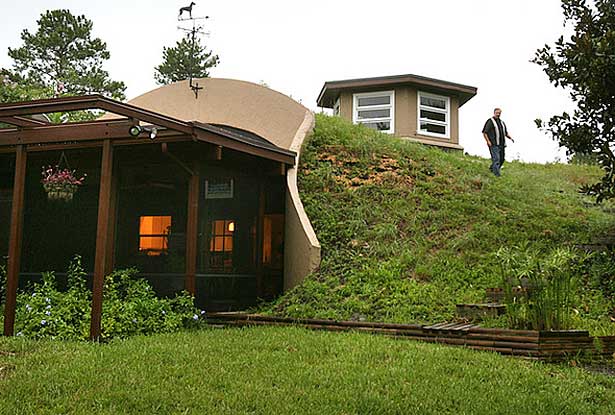 Multi-Level
But, traditional homes may have wood or aluminum siding, windows and trim, roofs that have to be re-shingled after so many years, garages that take extra heating and cooling.
Get Your Pencil Out ...
So, you'll have to do the research and decide for yourself if an earth berm home pencils out for your particular needs. And, then get going and buy or build as soon as you figure it out.