Disadvantages of Underground Homes
Of course since this is a pro underground home site we thought it only fair to list some of the disadvantages to owning such a house as well. Many of the disadvantages of owning an underground or earth sheltered home are not fundamental or technical but psychological.
| | |
| --- | --- |
| When buying or building an underground home a person may have some negative feelings pop up. You will also have to deal with the negativity of others such as a spouse, children, friends, family members and acquaintances. | Underground Dweller |
Phrases like "prairie dog," "groundhog," "gopher hole" and "caveman" may crop up in conversation from the naysayers. Some people may call you a survivalist. Remember, that anything new and unconventional is threatening to some people.
Outside Looking In ...
If you decide to buy or build an earth sheltered or underground home you may at times feel marginalized by society. You have suddenly become an outsider because you don't own a "Little Pink House" according to John Cougar Mellencamp and live in a community of look alike homes.
You may feel ostracized, snubbed, outcast by the community. Or, you may not feel any of these things. So, now for some of the real, practical disadvantages of underground homes and earth sheltered houses.
They Come In 3's
The first is buying one on the open market. Since there are so few of them out there, they will be hard to find, especially in the location you want.
Second, when you decide to build an underground home, you'll be delighted in the low cost, but when it comes time to sell, you'll also need to expect a long wait (it's not for everyone) and a lower price than most other above ground homes in the area.
A third disadvantage of an underground or earth bermed home is the view. It's true that you can build into a hillside with a view. It's also true that you can use mirrors along with skylights for a view.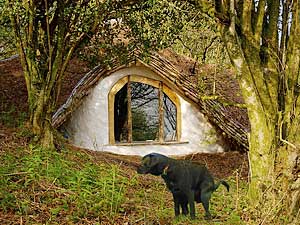 Doggone!
But, what is also true is that trees can grow taller blocking your nice mountain or ocean view or businesses or neighbors may construct a nice two story building blocking your view. Or like with other homes the neighbor's dog will poop on your lawn. These are realities which must be considered when scoping out an underground dwelling and its location.
For these few disadvantages though, there are plenty more advantages of underground homes and earth sheltered houses that you need to know about. Read both pages and then weigh the advantages and disadvantages for yourself.