Underground Culvert Homes
You've probably heard of root cellars before, but underground culvert homes are not your grandmother's root cellars. Underground storage pods and homes are made from culverts once designed as a way to bridge creeks and now they have been recycled.
| | |
| --- | --- |
| | The culverts themselves are thin but strong steel pipes (or concrete). The steel ones are light in weight considering their size, and inexpensive to use when you compare them to other construction types. The pipes are also galvanized, which makes them rust-proof. |
You can use various sizes of culvert pipes to construct a storage area or home space. They can basically fit into most any underground need you might have. Eight or ten foot culverts are especially roomy for home use.
Underground culvert homes are quickly and easily built. Steel plates are usually welded on the ends, enclosing the culvert. Culvert piping is also used for the vent tubes, and these are usually placed at each end of the culvert. You may opt to use a smaller diameter of culvert for your entry way.
Tar and Feather, Ye!
The outside of the culvert pipe may be sprayed to prevent rust, using tar. The interior floor of culvert homes and storage areas is usually made from one inch plywood and 2 x 4's. The floor is placed low enough in the pipe so that you'll have plenty of head room.
The type of doors used on culvert homes varies, depending on the use of the house. You can also add a porch to your home. Wooden doors may be used for entryways, with inner steel doors for security. Walls and shelving are added for security and storage.
Culvert homes can be easily set into the place where you want them. The hole can be dug in a single day, and the shelter can be put in place in one day as well, with entrance pipes and vent pipes welded on. The third day, the culvert pipe will be buried.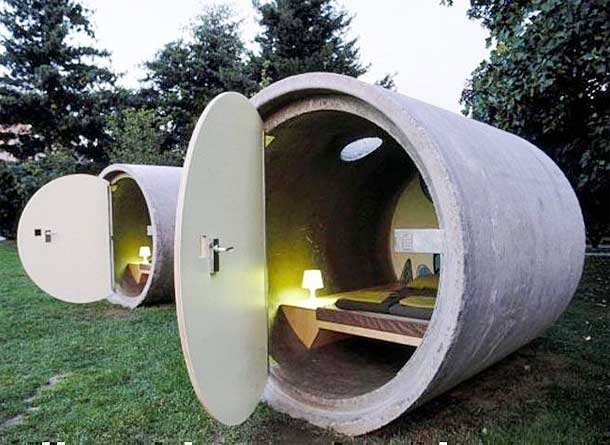 For the size of culvert home you need, this type of building is inexpensive, compared to other building types. Some of the materials can be reclaimed, making the cost even lower. An average shelter home may have 250 square feet, with plenty of cubic feet for storage. Whether you use it to live in, or as a shelter for emergencies, you can add a bed and dresser, along with a relatively small living area.

If you are looking at a finished culvert home, you may notice rock towers on the top. These actually are used to enclose the shelter vents, so that kids won't be able to shoot any holes in them. You can even completely hide your culvert structure from view, which is especially valuable if you want to use it as an emergency shelter. You can hide the entrance way and the vents in outbuildings or shrubbery atop the home.
Getting Defensive ...
Some people are setting up culvert homes as defensive shelters, which will be a place to take cover in the event of severe storms or nuclear attacks. The people who have these culvert homes built as shelters use heavy materials for the walls and doors, to make sure that they will remain safe in place after a storm, earthquake or some type of attack.