Underground Mansions
There was a time when just the thought of living underground brought bunker-type homes to mind, but today there are many underground mansions that have all the features of conventional luxury homes.
| | |
| --- | --- |
| Underground Mansion | One house in Manchester, England, for example, has 4300 square feet of underground living space that is bathed in sunlight, with 1/3 of an acre planted in garden style above ground. |
You may find some surprising extras in underground mansions today. These include movie theaters and underground spas. Wealthy homeowners-to-be are heading deep into the earth to create elegant surroundings for themselves and their families. In addition, some luxury house owners are building subterranean rooms that are every bit as elegant as those found above ground, including high ceilings and lovely decor.
Some underground mansions have living space above-ground as well, but others can hardly even be seen underneath their landscaped yards. Many homeowners who want to improve and enlarge their homes are running into obstacles with land availability and zoning restrictions, but building underground solves those problems.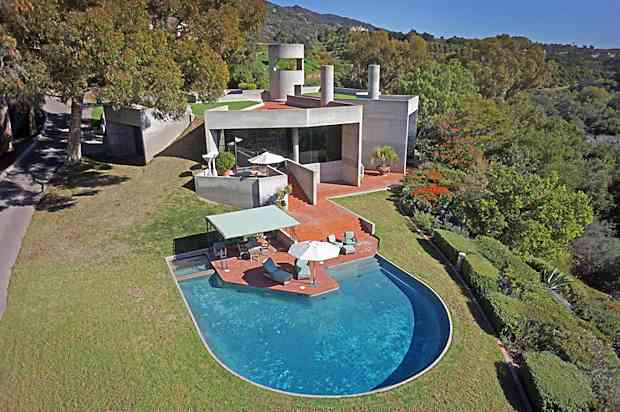 Steve Martin's Wild 'N' Crazy Earth Berm Mansion near Santa Barbara, CA
It's Magic ...
Many of the rooms in these subterranean luxury homes are uniquely shaped, like wedges or other shapes that make use of the available space most efficiently. Often you may find atrium areas with dome windows, that let in a great deal of sunlight. This creates the illusion that you're not underground at all.
Sometimes the "front doors" of underground mansions are barely visible when you look at them from a vantage point above-ground. The doors lead to various elegant staircases and then to the living areas below. Underground houses are easy to heat and cool, and although the ultra-rich don't have to worry about high energy bills, it is a positive move that these homes are less reliant on fossil fuels.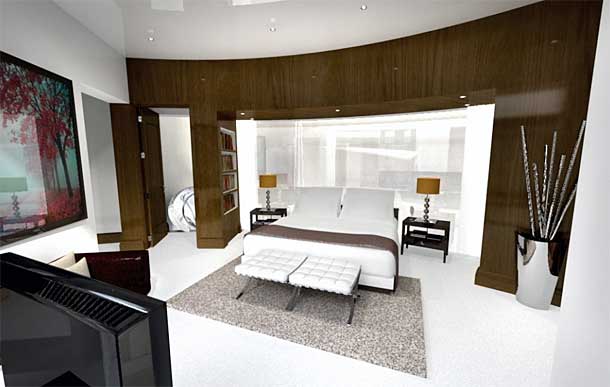 Luxury subterranean homes also feature kitchens with state-of-the-art appliances and large bedrooms. They may have rooms on even lower levels too, including Jacuzzi's, swimming pools and gyms. The rooms may be heated with systems located under the floors, and heat pumps using heat exchange technology supply the hot water. Heating systems use the heat located in the ground to heat each house more efficiently.
Ventilation is very important underground, whether you have a smaller home or a mansion, and as long as a subterranean house is well-ventilated, you won't be impacting the environment around you much at all. The energy demands of newly designed homes may be almost zero. One owner jokes that his home will be an architectural landmark even though you can't actually see the house.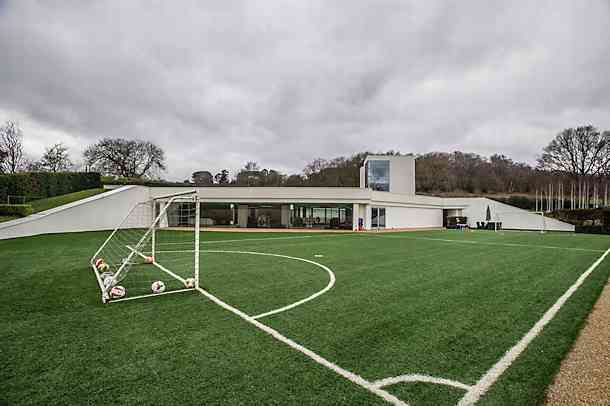 Earth-Bermed Mansion in the UK with soccer field
The proposals for underground luxury homes are described as exciting and innovating. Residents in older neighborhoods, who are accustomed to conventional homes, feel that the plans take some getting used to, but they are often won over when they see the beautiful gardens above the subterranean homes.
Dig a Little Deeper ...
Some designers add to existing luxury houses by digging deeper beneath them, while some houses are designed as subterranean from the very first. Homeowners may have many extras in their below ground living space, including bowling alleys, spas and even half basketball courts. There is almost no limit to the use of space when you build by digging deeper.

External Links
http://www.dailymail.co.uk/news/article-1225423/Unveiled-Britains-2m-underground-mansion-designed-away-prying-eyes.html
http://online.wsj.com/article/SB10001424052970204781804577269551172054374.html
http://www.dailyrecord.co.uk/lifestyle/property/pictured-inside-luxury-475m-james-5283199