Underground Hotels
If you own an underground home or are a fan of them, then when you go on vacation, where do you go? Well, an underground hotel of course.
| | |
| --- | --- |
| Underground hotels don't break records, like Dubai's giants, but if the lifts fail, they sure have the edge. There's more to an underground break than that, though. | Underground Hotel Room |
The cave-dweller inside us needs to get out occasionally. Luckily, there's a good selection of hollowed-out chunks of rock around the world where you can lay your head.
Take Kokopelli's Cave in Farmington, New Mexico, near the Navajo Indian reservation. This one-bedroom, 65 million-year-old bed and breakfast cave is seventy feet underground, with plush carpets. Close to the Mesa Verde (green table) National Monument in the Four Corners area, the cave and cliff tops offer a superb view of incredible sunsets.
Blasted out of sandstone rock and overlooking the La Plata river, it features all home comforts - kitchen, furniture in Southwestern style, flagstone hot tub, washer/dryer, microwave, waterfall shower and, of course, hot and cold running water.
| | |
| --- | --- |
| | Flintstones, eat your hearts out! |
If, like most of us, you longed for the lifestyle of Bilbo Baggins, in "Lord of The Rings", then Woodlyn Park, Otorohanga, New Zealand is your dream come true. The Hobbit motels all have kitchens, are self-contained, and built with thermally-insulating polystyrene blocks.
These keep the heat in during the winter and out during summer, so you'll be nice and comfy all year round. Between two and ten guests can be accommodated, so take your little Hobbit family with you and give them the time of their lives.
When in Turkey ...
As underground hotels go, they don't come with much more history and local interest than the Elkep Evi cave hotel complex at Urgup, Turkey. You'll be amazed by the local Fairy Chimneys, incredible eroded rock formations. With three 7-room pensions and a suite of two bedrooms, the hotel sits close to the top of the town's hill, Esbelli.
All cave rooms offer modern, en suite facilities, most giving you a private terrace with panoramic views over the Goreme National Park. You'll love the relaxed atmosphere each day, as you take Turkish breakfast in the garden or the salon, at Hilltop.
You'll find lots to do at Beckham Creek Cave Haven, Eureka Springs, Arkansas. With superb craftsmanship and modern technology, this cave dwelling, created on a 280-acre estate, is truly fit for royalty. Get close to nature, without losing the comfort and luxury you'd expect from a thoroughly modern accommodation. This secluded lodge brings you the experience of a lifetime. Featuring the "Spanish Piano", a naturally-soothing rock waterfall.
The French Underground
A delightful three-room hotel, Le Prince Noir, at les Baux de Provence in France, is set in a Roman citadel, carved out of rock. The most exclusive of the rooms sits at the top of the hotel, so you overlook the castle, with 25 of your own terraces.
Self-contained, with two rooms, private bathroom and kitchen, a queen-sized and a double bed make it suitable for 2 to 4 guests. This is a wonderful jumping-off point for you to discover the culture and the tradition of Provence.
Underground hotels, as you can see, add a touch of magic to your break, giving you the feeling that you're in another world. Around any corner, you could bump into an elf, or a Roman legionnaire or, (heaven forbid) a dragon.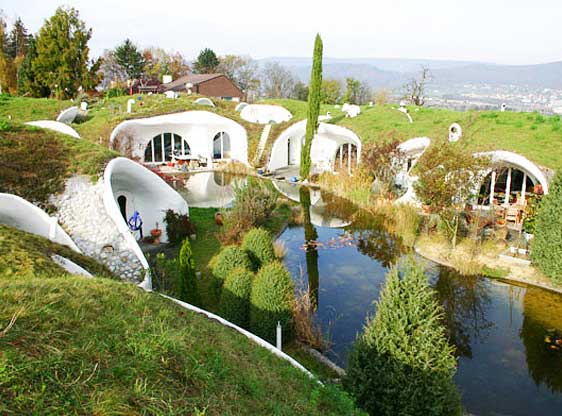 So next time you go away, do something different - stay in a luxury cave.