Heating & Cooling
Traditional homes have to be heated on a constant basis during the cold months. Whether the heating is done with wood, coal, gas or electric the costs go up every year. And as the world tries to become greener and save its valuable resources some of these heating methods will either become harder to get or become unavailable at all. And the cooling costs always follow this same pricing method.
| | |
| --- | --- |
| There are homes however that are not as susceptible to the outside elements as the traditional houses are. These homes are underground and they have a lot of advantages compared to their above ground counterparts. | Furnace |
Underground homes are not exposed to the wild temperature swings that have been taking place. Underground homes are a great shelter against strong winds and server storms. Underground homes are also more fire resistant because they are made from concrete and steel and as well use the surrounding soil as a form of insulation.
With this type of underground construction heating and cooling underground homes does not cost as much as it would a traditional home above ground. Being down under the earth and also being insulted by the earth around is a great way to hold the inside temperature while keeping the outside temperature away. The ground has a stable temperature after a certain depth has been reached. Using this stable temperature will allow the underground home to have an inside temperature that is easier to control.
An underground home will require little to no air conditioning during the warmer months. As well the heating bill will be minimized during the cold months. In short heating and cooling underground homes is relatively inexpensive. An underground house's temperature will not drop below fifty degrees on average. It really doesn't take much to increase a temperature from fifty degrees to a higher temperature.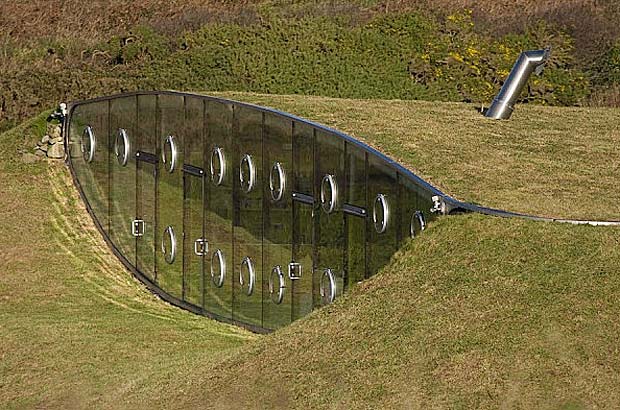 Ventilation is important for an underground or earth berm home
Heating could consist of an electric space heater running just for a short time. Traditional electric, natural gas or propane heaters may also be used. Proper ventilation is the key for any of these types of system. For those wanting to go off-grid, solar panels can be used to supply electricity for heating along with a battery system for storing energy at night.
In regard to cooling an underground home, usually all that is needed is proper air flow and ventilation. Air heat exchangers can be of use to underground homeowners for the combination of heating, cooling and ventilation.
Underground homes are a very sound housing investment. They are a safe spot from many weather conditions that nature can throw at a homeowner. They are less costly to heat during the cold months due to having the earth around them for insulation. And they are less costly to cool in the warmer months because of the same earth around them is used as insulation.