Underground Home Designs
There are many types of underground home designs from which to choose, and you can do a lot of personalization to the plan from which you have your home built. Where once these homes were looked upon like musty basements, you can infuse personalization into your underground home and make it comfortable for you.
| | |
| --- | --- |
| The traditional atrial earth home is usually built in an area that has a fairly warm climate. The main goal of the house is cooling the air, so the main rooms are generally grouped all the way around an atrium, which gives the house light and proper ventilation. | Underground Home Design |
Underground homes do not need to feel dark and imposing. They can be bright and positive dwellings, where families can live in as much comfort as they can above ground.
Penetrational Home (insert your own joke) ...

Another type of underground home is a non-traditional type called a "penetrational" home. In this type of design, the floor plan is more adaptable to the individual owners, and the plan uses penetrations for ventilation and light.

Some builders and homeowners also combine their favorite aspects of underground homes to design their own. Combining various design plans will give you the best of elevational and penetrational benefits, with windows on the back side letting in light and providing ventilation.
| | |
| --- | --- |
| | There are many shapes and sizes of earth homes, from very basic designs to those that rival any above-ground home in elegance. Your imagination and budget are the only limitations. |
Once you enter an underground home, you may even feel like you're in a conventional home. By selecting the correct type of land, you can develop and integrate a plan that is all your own, based on those who have built underground for years.

You may elect to build your home in a hill or a slope, where you have the luxury of full windows in the front, giving more brightness to your space. You need to account for all the surrounding land and terrain and allow them to play a proper part in your design.
Take care that you select lands that are not prone to flooding, and that will drain properly. There should also be a road close by, to transport materials for your house. If you'll be using shipping containers for your home, you may need heavy equipment to set them up.

Decide what you will use for your floors, roof and walls of your home. Reinforcing concrete with steel makes it a sturdy building material, and it has proven to be very durable. Include in your design the way utilities will be brought into the home, or the way in which your solar or geothermal energy units will be set up. Choose a contractor with experience in building underground homes, to avoid problems during construction or in the future.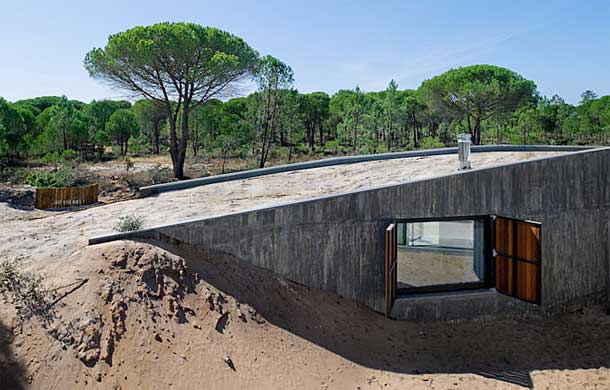 Your underground home plans will usually include fewer materials than do conventional homes. You'll have less in labor expenses too, and the earth will help you to save energy once your underground home is built.