Using Shipping Containers for Underground Homes
Shipping containers are gaining more popularity as building blocks for homes, and they can also be used effectively in underground home construction. You may have seen finished shipping container homes and not even realized it, because they are so versatile. Whether you use single or multiple cargo containers, you can build efficient homes underground.
| | |
| --- | --- |
| A shipping or cargo container home that is earth-bermed is an excellent way to have a house where the temperature is regulated, and where air conditioning often is not even needed. | Shipping Container as Underground Home |
Temperate year- round conditions make underground shipping containers an attractive idea in many climates.

Shipping containers are a positive choice for an underground home if you bury it and seal it correctly. The containers are made from steel, so they are strong and durable, and a smaller home can be just right for one or two people. If you've lived in smaller homes before, these houses will not seem much different.
Green House ...

If you like, you may wish to attach a greenhouse to your shipping container home, although that will let in light, which will raise the temperature. Solar or wind power can be used to keep your underground home off the grid, but even with standard utilities, these homes are energy-efficient.

Solar energy will provide your hot water, if you use it, and you can harvest rainwater from the roof. You can also re-use water for irrigating your landscape.
If you're in a remote area, your underground shipping container home may need a septic system built. The equipment used to create the underground area for your home can also be used for this purpose.
Shipping and Receiving

If you have the space and the zoning, you can set up an underground shipping container on your land and turn it into a home over a period of time. Emptying out your small trailer or mobile home, you'll find similar space or more space available in your shipping container house.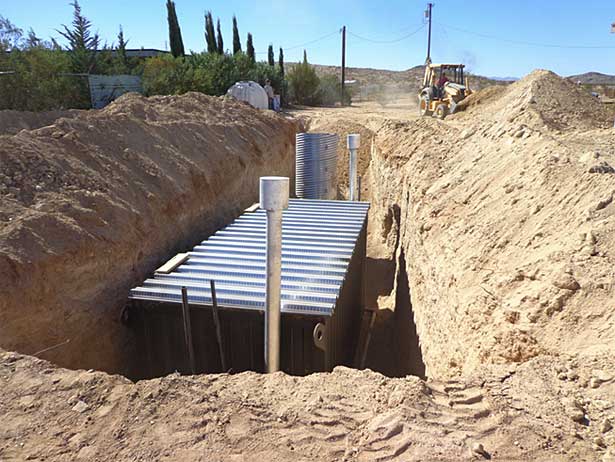 There are lots of advantages to building a container home underground. The earth is an excellent insulator, and you're protected from storms. You won't have to shingle, side or paint your house, and you can cover your site with a lawn or garden.

A one-bedroom single underground container home will hold three to five feet of soil on top, when steel rebar is used to reinforce the roof. The rebar will distribute the earth load over the entire top of your shipping container. The floor, walls and roof should be insulated from soil, with enough insulation to keep your home energy-efficient in any weather.
Net Gain ...

A two-bedroom underground shipping container home is similar in design to the one-bedroom model, but it usually has a kitchen that's a bit larger. You may opt for a home like this, and while you'll lose some spaciousness, you'll gain security, economy and energy-efficiency.

You'll save a lot of money on utilities, and even more if you're off the grid. You can use solar panels to generate all the electricity you'll need, and if you have panels that swing up, they can adjust to the best angle for solar efficiency.
| | |
| --- | --- |
| | And, of course, some people don't use them as homes as they'll use a container simply as a shelter. |
Now, go contain yourself - Ow!
External Link

This is a YouTube video of using a shipping container for building an underground shelter. The same techniques could be used for building an underground home as well.

http://www.youtube.com/watch?v=A3EAJex1RVo