Icelandic Turf Houses
Dating as far back as 900 AD, turf structures have played an important role in the history of Iceland. Icelandic people lived in turf houses up until the early twentieth century, and today only a few of these houses and churches still stand.
| | |
| --- | --- |
| Turf House | Because most of Iceland lacked trees, timber was not a viable resource for building. In search of other more local materials, Icelandic people sought to develop structures made from turf and rock, which help keep the homes well insulated in the country's harsh climate. |

The turf houses did include a wooden framework, in which layer of twigs and heather covered roofing timbers. An additional layer of turf was placed on top of the roof, and the walls contained little windows. Glass was either too costly or hard to find, so what few windows the homes did have were covered with a clear membrane substance to allow light to filter in.

Most homes used driftwood as the main component in construction, as imported wood was very expensive. In 1787, timber imports became more common, as the Danish royal trade monopoly lifted.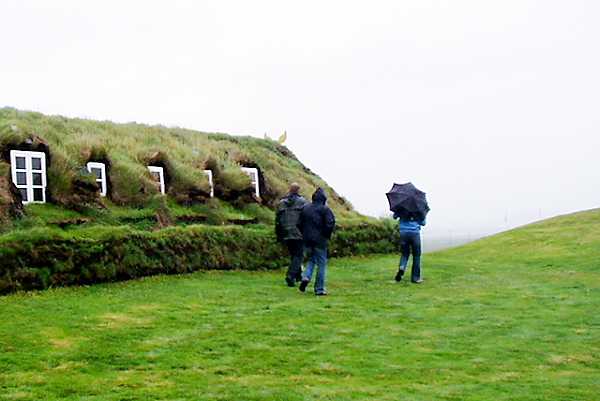 Iceland Turf Home

Turf homes of the wealthy were often large and contained interior wood paneling and wood floors, as they could afford the high cost of lumber. Peasants, however, lived in much smaller turf houses that were simpler and had an earthen floor. Turf dwellings had open hearth kitchens and a communal sleeping area, and wealthier homes could have featured a separate sleeping room for the farmer and his wife.

In many cultures, turf homes were only for the poor, but that was not the case in Iceland, where the turf provided excellent insulation from the elements compared to other, less obtainable forms of material. Sod was excellent at minimizing drafts, as the winter months were known to be very cold.

Turf helped keep the home hot when necessary and cool when appropriate. Since approximately 30-percent of Iceland was forested when it was settled, the native birch trees were the only source of framing material available. Several structures in Norway had grass roofs so many Icelandic settlers from that country understood the concept of using turf as a material for building.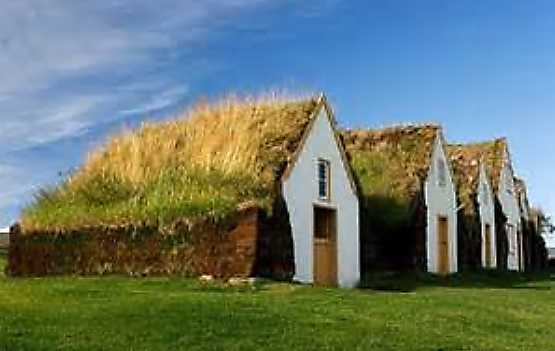 Over time, the traditional Viking style longhouses, which was basically one large community home for the village, changed as people started building separate structures that were connected via a central passageway. This helped maintain the notion of community while still allowing privacy and separation when necessary.

Villagers would find large amount of turf in the marshlands, where they had several different tools to cut the turf to meet whatever size they needed. It was common for the turf to have to be replaced over time, but factors like who cut the turf, the environment, and the soil composition could affect how long the turf would last.

The interior design of the homes changed throughout the years, and construction officially ended in the mid-20th century. Some turf homes still stand today and serve as remembrance to days gone by.